A new directive issued by Champassak authorities has banned the cultivation of crops and trees that are likely to deteriorate soil quality in the coffee-rich Pakxong district, part of the Bolaven Plateau.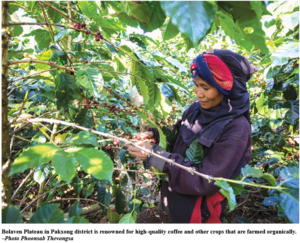 The banned crops include cassava, large bananas (kuay hom), Jatropha, and eucalyptus.
A 12-page Decision signed by the Governor of Champassak province, Dr Vilayvong Bouddakham, spells out the action to be taken to prevent crops that degrade the quality of soil from being grown in the district.
Pakxong is part of the 497,199-hectare Bolaven Plateau that was formed following the eruption of a volcano millions of years ago. The plateau has fertile and productive soil along with a relatively cooler climate that is perfect for growing organic crops and aromatic coffee.
Ranging from 1,000 to 1,350 metres in elevation, a US media channel (CNN) described the Bolaven Plateau as one of the world's best coffee-growing regions.
"It [Bolaven]'s earned a burgeoning reputation, not only for the quality of the coffee beans the area produces, but also for its stunning scenery and vibrant ethnic cultures — making the plateau one of the best road trip destinations in Southeast Asia," CNN said.
According to the Decision, cassava is perceived as a crop which degrades the soil by absorbing excessive amounts of nutrients. If the crop is grown on the same plot of land for several consecutive years, the soil will become significantly less fertile.
Meanwhile, the cultivation of large bananas (kuay hom) requires a lot of pesticides which are harmful to the environment and to human health, so this crop will now be banned in Pakxong district.
The Decision highlights the importance of agricultural land, stressing the need to prevent it being converted to other types of land use.
The conversion of agricultural land for other uses, if deemed to be in the interests of the nation and people, requires approval from the provincial People's Council.
Under the Decision, agricultural land cannot be used for the purposes of construction, industry, or even a place to buy cassava.
The Bolaven Plateau in southern Laos spreads across three districts – Pakxong district in Champassak province, Thataeng district in Xekong province, and Lao-ngam district in Saravan province.
The plateau is renowned for its coffee farms, as well as tea and other crops that are farmed organically. It is also a catchment area that is the source of a number of rivers and waterfalls. These include Tad Fan and Tad Yeuang in Pakxong, and Tad Champi which lies between Pakxe and Pakxong districts.
Pakxong district has 151,150 hectares of arable land, of which crops are grown on 148,000 hectares.
Authorities encourage the cultivation of tea, coffee, organically farmed crops, medicinal plants, flowers, cold weather plants, and plants to protect water resources to promote tourism.
By Vientiane Times Reporters
(Latest Update April 10, 2023)